[Date]:2022/07/21~2022/07/23
Theory and Experiment for Time, Quantum Measurement and Semiclassical Approximation-Interface between Classical and Quantum Theory-|2022a019
Overview
How to Hold: in-person
Venue: IMI Auditorium (W1-D-413), West Zone 1, Ito campus, Kyushu University
Main Language: Japanese
Title of Research Project: Theory and experiment for time, quantum measurement and semiclassical approximation-interface between classical and quantum theory-
Principal Investigator: Satoshi Tanda(Proffesor/Department of Engineering, Hokkaido University)
Research Period: July 21, 2022 – July 23, 2022
Details of the Research Plan: https://joint1.imi.kyushu-u.ac.jp/en_research_chooses/view/2022a019

※This meeting is also supported by Grant-in-Aid for challenging Exploratory Research[JSPS KAKENHI Grant Number JP20K20886 (PI: Fumio Hiroshima) ].
Program
July 21(Thu)
14:00-14:50  
"What Quantum Measurement Measures: Definition of Measurement Error and Observer Independence of Measurement Outcome"
Masanao Ozawa (Chubu University / Nagoya University)
15:00-15:50
"Witten index for 1D split-step quantum walk"
Wada Kazuyuki (National Institute of Technology, Hachinohe College)
16:00-16:50
"Numerical simulation using quantum density matrix to describe dolested photon-mediated physical phenomena"
Suguru Sangu (RICOH COMPANY, LTD.)
17:00-17:50
"Foundation of Quantum Mechanics studied in Neutron optics"
Yuji Hasegawa (Hokkaido University / TU Wien)
July 22(Fri)
10:30-11:20
"Time operators associated with harmonic oscillators"
Fumio Hirosima (Kyushu University)
11:30-12:20
"Time operator of harmonic oscillator in l²(N)"
Noriaki Teranishi (Hokkaido University)

14:00-14:50
"Toward a Demonstration of the "Arai-Miyamoto Inequality" Using Quantum Crystals"
Keiji Nakatsugawa (National Institute for Materials Science)
15:00-15:50
"Quantum Topological Science and Technology:Real-space and K-space Topological Control"
Satoshi Tanda (Hokkaido University)
16:00-16:50
"Cross-fertilization between particle physics and quantum foundations via B meson decays"
Izumi Tsutsui (High Energy Accelerator Research Organization)
17:00-17:50
TBA
Masao Takamoto (Institute of Physical and Chemical Research)
July 23(Sat)
10:30-11:20
"On the Schroedinger picture in C*-algebraic quantum theory"
Kazuya Okamura (Nagoya University)
11:30-12:20
"On some known theorems on non-existence of spontaneous symmetry breakdown of time-translation symmetry for equilibrium states"
Hajime Moriya (Kanazawa University)

14:00-14:50
"Time operators for Quantum Walks"
Itaru Sasaki (Shinshu University)
15:00-15:50
"Quantum Computing, Sensing, and Simulation in Light of Development"
Masao Hirokawa (Kyushu University)
16:00-16:50 Canceled
"Asymptotic expansion of the quantum Zeno effect"
Asao Arai (Hokkaido University)
Poster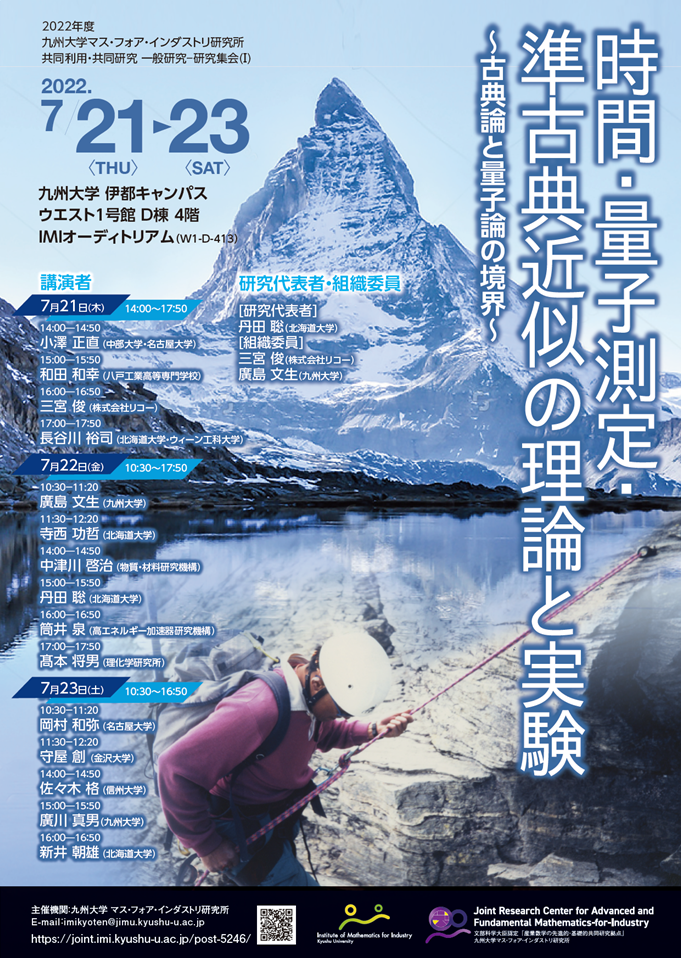 Registration
Anyone can participate in this conference for free.
Please fill out the registration form:
\To participate in this meeting, please apply below/

■Admission Restrictions
We ask for your kind understanding in advance that
the admission may be restricted
in case participants number will be exceed 50% of the capacity.