[Date]:2023/09/20~2023/09/22
Mathematics of Security Analysis for Modern Cryptography|2023a003
Overview
How to hold: Hybrid Meeting (In-person/Zoom)
Venue: JR Hakata City 9F conference room1
Main language: Japanese
Type/Category: Grant for General Research-Workshop(Ⅰ)
Title of Research Project: Mathematics of Security Analysis for Modern Cryptography
Principal Investigator: Noboru Kunihiro(University of Tsukuba / Professor)
Open to the Public: September 20, 2023. – September 22, 2023.
Details of the Research Plan: https://joint1.imi.kyushu-u.ac.jp/en_research_chooses/view/2023a003
Program
September 20, 2023.
Session 1: Hardware Security
13:00-13:10 Opening
13:10-14:10
Yuichi Hayashi(Nara Institute of Science and Technology)
Mathematics of Electromagnetic Information Leakage Including Modern Cryptography
14:25-15:25
Rei Ueno (Tohoku University)
Cryptographic Primitives and Hardware Architecture for Memory Encryption
15:40-16:40
Abdul Rahman Taleb (CryptoExperts and Sorbonne University)
Towards Achieving Provable Side-Channel Security in Practice
September 21, 2023.
Session 2: Security on Symmetric Key Encryption
10:00-11:00
Akiko Inoue(NEC)
On the security and attacks against mode of operation for authenticated encryption
11:15-12:15
Yosuke Todo(NTT)
Security Model for Cache Randomization Function and Design and Security Analysis of SCARF
Session 3: Quantum Security
13:45-14:45
Kento Oonishi(MITSUBISHI ELECTRIC)
Shor's Algorithm Using Efficient Approximate Quantum Fourier Transform
15:00-16:00
Junpei Yamaguchi(Fujitsu Limited)
Implementation and analysis of new quantum algorithm SQIF for integer factorization
16:10-16:40
Ren Taguchi (The University of Tokyo)
Quantum resource estimate for Shor's algorithm for binary ECDLP
September 22, 2023.
Session 4: Side-Channel Attack
10:00-11:00
Keita Xagawa(TII)
A survey of side-channel assisted key-recovery attacks against lattice-based key-encapsulation mechanisms
11:20-12:20
Akira Ito(NTT)
Deep Learning Based Side-channel Attacks and Their Countermeasures
12:20-12:30 Closing
13:00-15:00 Free Discussion
Banquet
We plan to have a banquet at 9/20 around Hakata station.
If you would like to participate, please inform Ikematsu (ikematsu@imi.kyushu-u.ac.jp).
The deadline is the noon on 9/11.
Program&Abstract
Poster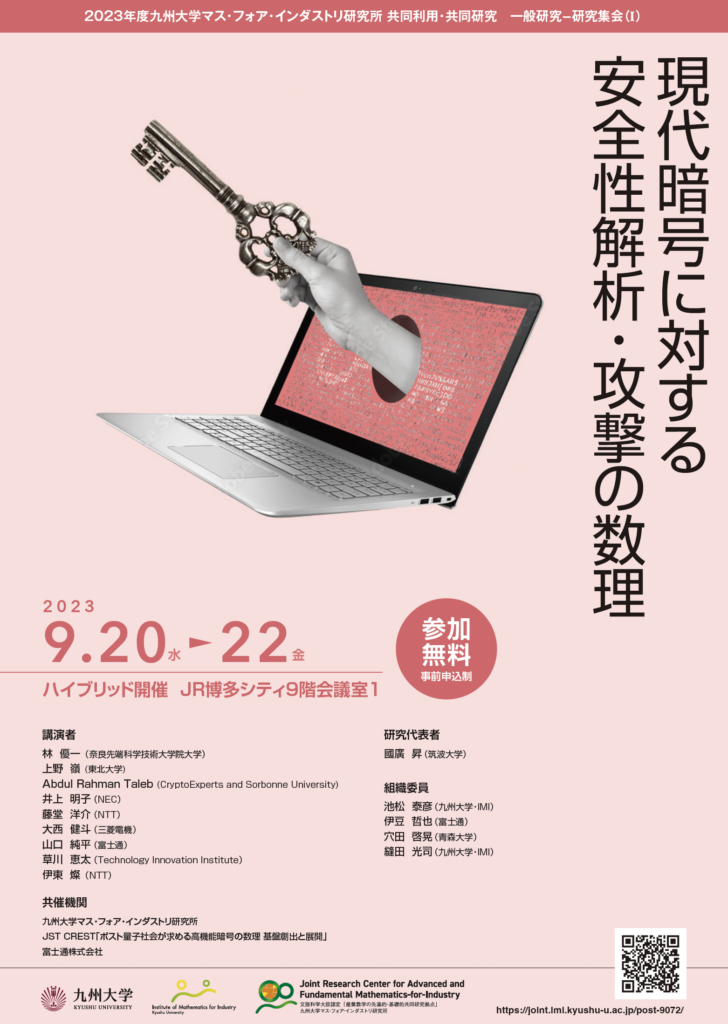 Registration
Advance registration is required.
Free participation fee.
(Registration also requires Organizing Committee members and speakers.)
Registration may be closed when the number of participants reaches the maximum.
\Please go to the following link for registration./
Participants via Zoom (online)
For online or hybrid (online+face to face) meeting via Zoom
After registration, you will receive ZOOM access information in an automatic email from the address imikyoten@gmail.com.
If not, please try to register again or send an email to our address below.
(Please check your spam folder, too.)
Joint Research Center for Advanced and Fundamental Mathematics-for-Industry, Institute of Mathematics for Industry, Kyushu University
imikyoten(at)jimu.kyushu-u.ac.jp
Change (at) to @.
About Zoom
If you have not downloaded the Zoom application yet, please download it (https://zoom.us) in advance.
https://zoom.us/download#client_4meeting
How to install it on your computer or smartphone.
https://zoom.nissho-ele.co.jp/blog/manual/zoom-install.html